Hello, Looking for information on earthquakes in California today? Find here today's earthquakes in California:
Earthquakes in California right now
In this map you can see earthquakes in California right now. This is a LIVE map earthquakes in California today. You can se all Earthquakes in California last 24 hours here:
Predictions for earthquakes in California
The state of California is crisscrossed by numerous active faults capable of generating even very strong surface waves.
Future earthquakes in california:

A new California earthquake forecast by the U.S. Geological Survey, California Geological Survey, the Southern California Earthquake Center and partners revises scientific estimates for the chances of having large earthquakes over the next several decades.
The Third Uniform California Earthquake Rupture Forecast, or UCERF3, improves upon previous models by incorporating the latest data on the state's complex system of active geological faults, as well as new methods for translating these data into earthquake likelihoods.
Expected and upcoming earthquakes in california
A  new study, the estimate for the likelihood that California will experience a magnitude 8 or larger earthquake in the next 30 years has increased from about 4.7% for UCERF2 to about 7.0% for UCERF3.
Below is a three-dimensional perspective view of the likelihood that each region of California will experience a magnitude 6.7 or larger earthquake in the next 30 years.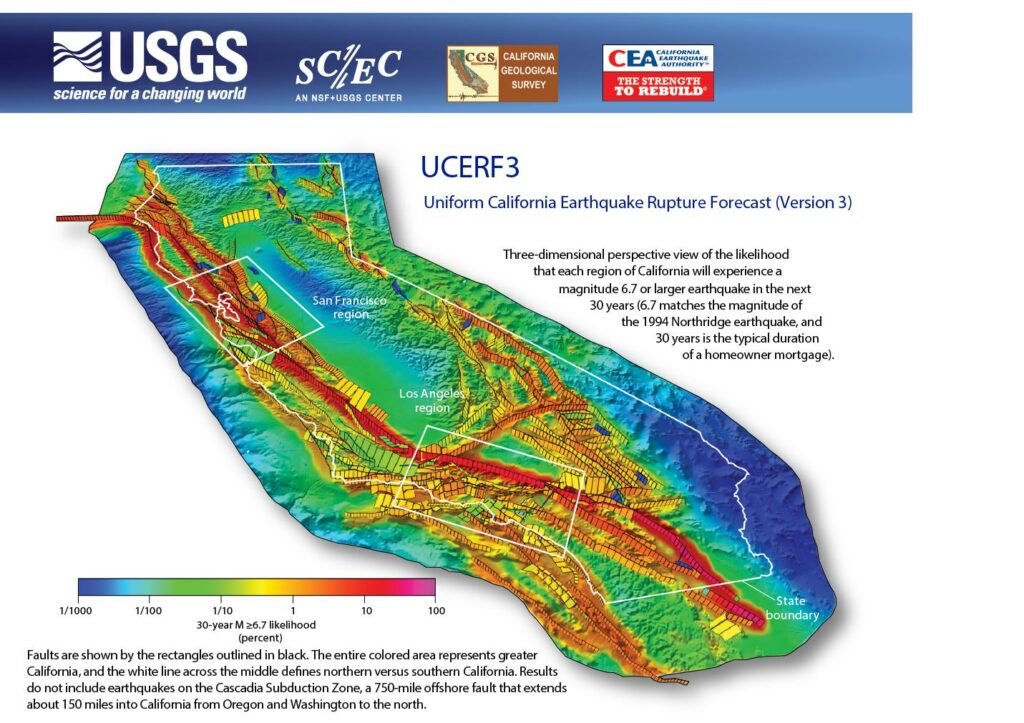 List of earthquakes in california
Here, You can see a list of major earthquakes in California ordered by magnitude:
[ninja_tables id="635″]
​ * Offshore quake
The strongest earthquake in California:
The strongest earthquake ever recorded in California was for Fort Tejon in 1857, with an estimated magnitude of 7.9, caused by the rupture of the St. Andrew's Fault 350 km between Parkfield and Wrightwood. 
The last major earthquake in California:
A swarm of hundreds of small earthquakes south of the Salton Sea caused thousands of local people to feel "strong" shaking. The first quake on September 30, 2020, striking in the late afternoon, was a M3.0. The largest, a M4.9, struck at 5:31 p.m. The swarm lasted for several days, stabilizing at a low rate by Oct. 3. There were no reports of damage, but the swarm is a reminder to be earthquake ready.
Preparing for earthquakes in california
If you want to see earthquakes in california this week, you can acces to our free interactive 3D earthquakes map, or periodically check our live map of California in this post.