Looking for information on All of us are dead? All of us are dead, is a South Korean television series based on the Naver webtoon Now at Our School and its original title is sweeping the internet, becoming a trend these days.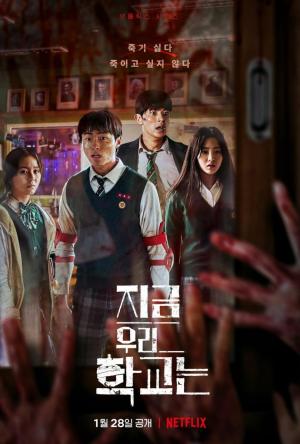 What is about All of us are dead?
The synopsis of the series is about a group of high school students who get trapped in their school during a zombie virus outbreak. The students try to avoid becoming zombies and desperately escape from their school.
From then on, there are students trapped in the classroom and others in the bathroom, even through the ceiling. A very interesting story and theme that we loved and want to share with you.
Korean series are hotter than ever on Netflix. After 'The Squid Game', 'Heading to Hell' and 'Sea of ​​Tranquility', the online platform has found another success with the new zombie proposal 'We are dead'.
Protagonists of the series All of us are dead:
This series stars Park Ji-hoo, Yoon Chan-young, Cho Yi-hyun, Park Solomon, Yoo In-soo, and Lee Yoo-mi.
Production:
Director: Lee Jae Kyu Screenwriter: Chun Sung Il
Original Writer: Joo Dong Geun
Series tab:
Title: All of Us Are Dead
Genre: Drama, School, Youth, Fantasy
Episodes: 12
Network: Netflix
Soundtrack: All of Us Are Dead OST
Country: South Korea South Korea
Duration of each chapter: 40 min.
where to see all of us are dead series
You can watch this series on Netflix and all the chapters are available on the online platform since January 28, 2022.
official trailer
If you want to see the official trailer for the series, we leave you the video so you can get an idea of ​​what you are going to find:
All of us are dead episode guide
If you want to see a brief summary of each chapter we leave you a description of what happens in each chapter. Spoiler warning: If you don't want to know these little details, don't read this section.
Chapter 1: Inside Lee Byeong-chan's science lab, a student incurs a seemingly harmless bite; soon after, a rapidly spreading outbreak drenches the school in blood.
Chapter 2: The infected multiply en masse; Fighting for their lives, Nam On-jo and Lee Cheong-san find safety with others inside a classroom, but not for long.
Chapter 3: When one of the group members receives a scratch while fighting a zombie, Lee Na-yeon demands that he be kicked out; outside, the virus swallows the city.
Chapter 4: In need of a cell phone, two students undertake a risky trip to the teachers' office; Byeong-chan passes critical information to Detective Song Jae-ik.
Chapter 5: Martial law is imposed on the city; when Cheong-san becomes separated from the rest of the group, On-jo leads a mission to use a drone to locate him.
Chapter 6: The group clears a path to Cheong-san by using sound to ward off zombies, but a new kind of threat emerges; Nam So-ju leaves the quarantine camp.
Chapter 7: To get out of the music room and onto the roof, the students put into action their most dangerous plan yet; elsewhere, Jae-ik experiences a setback.
Chapter 8: Jae-ik and his team meet a student from the school; Na-yeon steels herself to confront his classmates; the group share confessions around a fire.
Chapter 9: A camp riot changes the military's understanding of the virus; a storm provides cover when the party agrees to keep moving.
Chapter 10: The auditorium quickly becomes a trap for the two newly joined teams of survivors; Byeong-chan's video logs reveal a drastic solution to the crisis.
Chapter 11: Although a surprise protector provides the group with safe passage to their next stop, Yoon Gwi-nam is not far behind; The military make a serious decision.
Chapter 12: The students arrive at the quarantine camp, each overwhelmed by a tragic loss; months later, they cling to the hope of a survivor.
All of us are dead Season 2:
If you're wondering will there be season 2 of we're dead? At the moment Netflix has not confirmed that there will be a season 2 but all the rumors suggest that there will be a continuation of the series, being able to be released in early 2023.
As soon as the renewal is confirmed, we will inform more details and exact dates for new fans of this zombie series that is turning Korean series into fashion and trends in series, that's why Netflix is ​​betting on Korean series like the famous series of the squid game.
One of the best indicators of the performance of a series is the lists of the top ten series, but it is still too early to determine the popularity of We are dead, however the opinions on social networks make us think that we will soon see it in the series top 10.
FAQ Frequent questions
When has premiered are we dead?
All of us are dead premiered on Netflix on January 28, 2022.
What is the theme of all of us are dead?
All of us are dead is a series of zombies cataloged as a Korean drama that deals with a virus that turns those infected into zombies and spreads rapidly within an institute. The students fight to escape and survive.
How many chapters does it have all of us are dead?
It has a total of 12 chapters in its first season.
Where is broadcast All of us are dead?
It is broadcast on Netflix and has been available since January 28, 2022
Will there be a season 2 of All of us are dead?
Netflix has not yet confirmed a second season, but the renewal is expected soon, presumably new episodes will arrive in 2023, probably in January.
Other series recommended for 2022
If you want to see the series that are trending this year, at world3dmap.com we recommend the following series for their opinions and good recommendations. We are going to tell you all about the most sought-after series that everyone talks about on the internet so that you are well informed before you start watching a series. We show you what it is about, where you can see it, how many chapters it has and what is the opinion of social networks.