Where are the dogs trapped by the La Palma volcano? A drone appreciates human footprints in the pond where a mysterious poster has been hung claiming that A Team saves the dogs trapped by the La Palma volcano.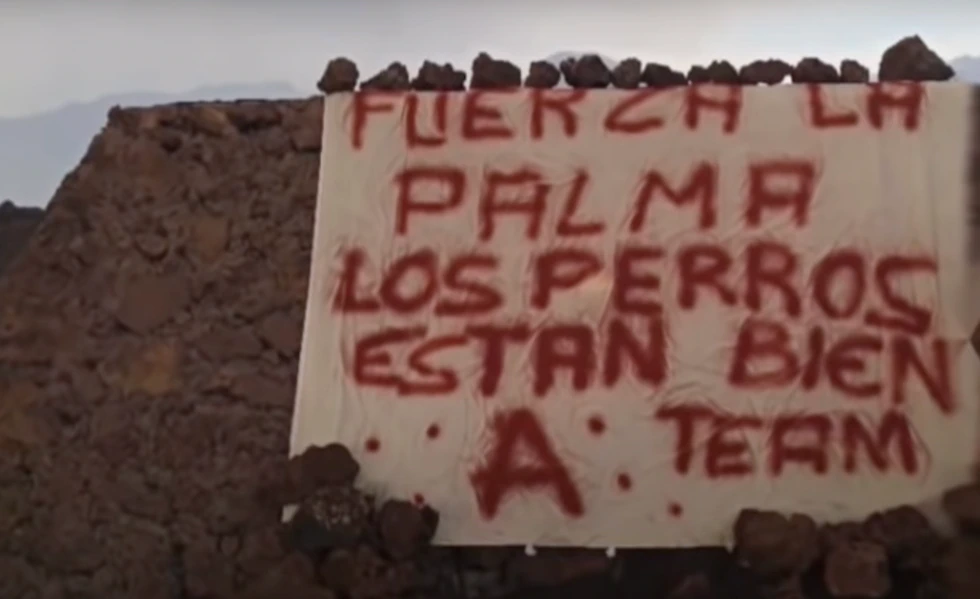 It was planned that the morning of October 20, 2021, the rescue of the dogs trapped on La Palma would begin, but surprise the dogs were not as captured by the images by the aero cameras sent to the area. However, there was a handwritten cloth banner that read "Fuerza La Palma, Dogs are fine. A Team", the message was in one of the empty ponds affected by the volcanic eruption on La Palma.
We all know the mythical A-team series and its exploits to help people in distress in each chapter and it seems that is what seems to have happened here. But…
Who is the A Team that has saved the dogs on La Palma?
It is considered that the animals have found a way out, but according to information from the company in charge of the rescue, human footprints have been captured in the area where the dogs were. In addition, the banner tells us that someone has been there, so does team A exist?
Where are the rescued dogs on La Palma?
There are messages on Twitter stating that the animals were rescued this Wednesday "in a hidden way" since access to the area is prohibited.
A Team saves the dogs trapped by the La Palma volcano. Is it right or wrong?
If it is true that this rescue has taken place, the authors would have carried it out violating the limits that the authorities have imposed around the areas affected by the volcano. The only way to access the pond where the dogs were is to pass over some lava flow whose temperatures can be around 160 degrees according to the measurements of the aero chambers.
Last minute Cumbre Vieja Volcano Spain.